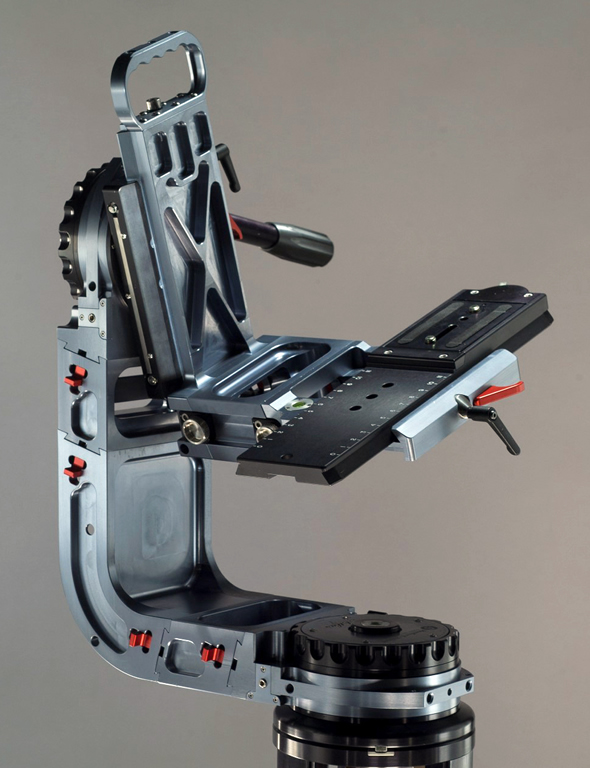 The Ronford-Baker Atlas 7 is a completely new patented design fluid head. Incorporating a strong, rigid design with minimum platform flex, together with the well proven Ronford-Baker fluid system.
Modular construction featuring, identical fluid units for pan, tilt, 3rd & 4th axis.
Full 2-3 axes setup in minutes.
The fluid units have 15 variations of fluid control, plus zero (fluid free) positions at both ends of the scale.
All fluid units are capable of 360º rotation.
Joining these units together is simplicity it's self. Twin tapered dovetails & a simple thumb screw fixing, allows tool free construction.
The Atlas 7 can be widened or raised via quick change blocks at 4cm, 8cm and 16cm wide, offering a quick and rigid interface.
Smooth positive braking.
Camera is mounted via sliding plates of different lengths & styles, including Arri Dovetail, Panavision or Quick Release types.
The Platform is vertically balanced by a quick adjusting ratchet mount, with fine tune nodal adjuster.
Panbar mounting thru the fluid units centre spindle, with various ratchet mounting. Numerous panbar options.
Mitchell base as standard with 150 m/m ball option.
2 Spirit levels, 1 in the pan & 1 in the platform.
Environmentally sealed.
Fully guaranteed.
Atlas 7 3rd Axis Mode
3rd Axis Nodal Setup The camera can revolve on the lens axis.
The Nodal Point can be found by attaching the camera without the lens by using a pointer in its place.
Counterbalance weights can be fitted on both 3rd Axis and Tilt, at the top and bottom of the adjuster plates.
Brochures are available to download
[Atlas | Atlas 30/40 | Atlas 0.4 | Atlas 7 | Fluid 7 | Series 2000 Heads (2015 | 2004 | 2003)]