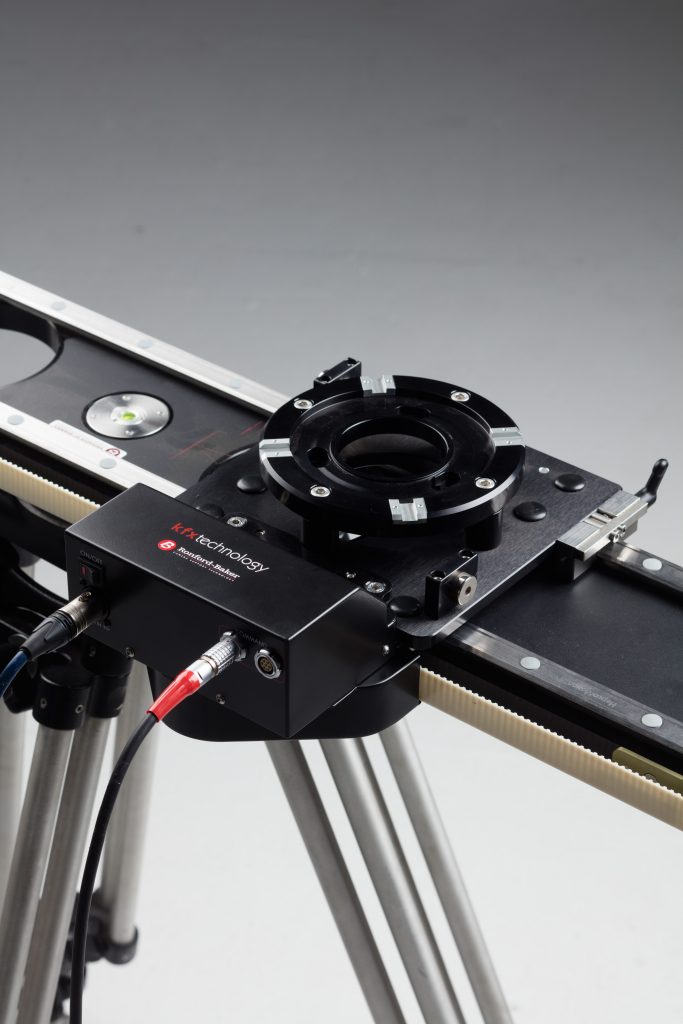 How do they shoot those silky-smooth timelapse travelling shots? Or a precisely moving, gliding tabletop product shot?
Sliders are great, but they're only as smooth as the finesse with which you can operate them. For really smooth slider moves, the trick is to be sure you're using the new Ronford-Baker Motorised Slider.
Its controller is a zoom control-sized hand unit that you can program for feathered starts and stops.
The motor moves a 4-keyed Mitchell mount along the slider with a toothed belt at speeds from fast 1 ft/sec to slow 1 ft/min. You can add the Motorised Unit to existing Ronford Sliders, or order the complete set. It's available in lengths from 25" to 96", and custom lengths as well.
Motorised Slider Specification
Max Load: approx. 70 kg
Top speed: 1 foot per second (1 meter in 3 seconds)
Min speed: approx. 1 meter in 3 minutes
Weight of Slider Motor unit: 6 kg
Voltage: 24 – 36 V
Programmable soft stops with adjustable
feathered starts and stops
Adjustable speed and direction
Easily fitted onto any Ronford-Baker slider.
Hand Controller can be fitted with rosette for pan bar mounting
Precision ground stainless steel runners and rollers
Slider Specification
Lengths: 25, 35, 42, 48, 72, 96 inches,
and custom sizes
Mount: Mitchell Flat Base, 150 mm or
100 mm Bowl
Minimum height: 4 ¾" (12 cm).
Overall width of slider: 10" (25 cm).
Rotation: lockable rotation of 360 degrees
Motion Control Software
Recording/playback of moves
Time lapse and key stage programming of moves
Brochures are available to download